Asheville Monthly Meeting of the Religous Society of Friends
=======
Support Black Owned Businesses
=======
CONTENTS
Cherokee Spiritual, Religious and Cultural Practices
Native American Resistance
Cherokee Ancestral Lands
Moving to Make a Difference
Chief's Medallion

=======
Tenth Month 3, 2021
Watson Harlan presented a historical look at Cherokee spiritual, religious and cultural practices and how they have: developed from contact to the present time.
Watson Harlan is a Cherokee Nation enrolled member and tribal historian with specializations in Colonial Cherokee History, Byzantine History, Classics and Historical Combat. He majored in History with a Minor in Native American and Indigenous Studies. His biographical roles include Non-Professional Digital History Consultant, Amateur Writer, Historical Fencer, Professional Lecturer and Public Speaker. He is available for historical legal consultation regarding treaty law.
Once you launch the Zoom recording, please start the video by using the play button. Then, you can use the Play/Pause button and the time slider to go forward and backward in the video.
A link to a recording of his presentation is below
https://drive.google.com/file/d/1mxL9D8RsYBZKwoioInR-6guSP8T2ygYS/view?usp=sharing
Below is a link to the slides from the presentation
=======
Ninth Month 30, 2021
WNCHA Presents: Dr. David Moore on Native American Resistance to the 16th Century Spanish Invasion of Western North Carolina September 30, 2021
In this 1-hour program, Dr. David Moore, an archaeologist at Warren Wilson University, discusses the Joara Native American Village and Native resistance to the Spanish invasion of WNC in the 1500s. Dr. Moore has been involved with the archaeology of this site near modern Morganton, NC for nearly three decades. He describes the findings of ongoing excavations and places them in context with the culture of the Native peoples who eventually thwarted Spanish colonization attempts in the Appalachian Mountains.
Below is a link to the presentation
href=http://www.youtube.com/watch?v=0GVIVATNsK8&t=24s
=======
Eighth Month 15, 2021
Asheville Friends Meeting hosted a presentation on Cherokee Ancestral Lands by Dr. Ben Steere, Anthropology Professor at Western Carolina University. The recording of his talk to Asheville Meeting timed out on Zoom. Below is a similar talk he gave.
https://www.youtube.com/watch?v=Pfuhoo7tM2Y
You may view the slides that Ben used by clicking on the link below:
Archaeology and ancestral Cherokee lands in western North Carolina
Presentation to the Asheville Friends Meeting
August 15, 2021
Ben Steere, Ph.D.
Western Carolina University
In gratitude to Dr. Steere and to support for the Cherokee Studies Program at WCU, we encourage donations to the TJ Holland Cherokee Studies Scholarship at
https://www.givecampus.com/campaigns/15932/donations/new
=======
Second Month 20, 2021
The young Friends invited the entire Meeting to participate in
Moving to Make a Difference!
On 2/20/21, all were invited to walk, run, bike, scooter, stroller, or skate your way to the Meetinghouse. Bring a mask and a mug, because a few folks will be ready with Hot Chocolate or tea! We're not just gathering to see each other (though that will be nice), we also want to make a difference. We are collecting non-perishable food and raising money to help fulfill the wants and needs of our neighbors. All the food will be delivered to Little Free Food pantries in the area. All the money raised will be donated to Beloved Asheville to support their ministry. You can choose to just bring food or money yourself, or get sponsors from friends and family members. Please feel free to join even if you are unable to participate in the movement part. And please remember to help keep everyone safe by keeping ample distance when removing your mask to enjoy your hot drink.

Lots of participants, kids galore, two dogs, brilliant sunshine, no wind, hot drinks, muffins and homemade cookies, and good vibes.....
-- Jim

Thanks so much to everyone! It was great to see everyone in person and have some time to visit. Thanks especially to Eden for her idea and persistence, and to Patty B, Susan, and Jen for all the delicious drinks, cookies and muffins. I'm attaching some pictures!
-- Laura

Thanks lots for this!! It was wonderful to see you all today, and to make this project a reality. Grateful to Tim and Patty for the food and beverage table, and to Susan for the delicious cookies..
-- Jennifer

I asked Ponkho Bermejo where to find the little pantries and he said to do a Google search for Beloved Asheville Street Pantry and refer to the map. Beloved has a recent post in Facebook, too, that shows them stocking a few of the pastries so you can see them as a "street view" lol. Here's a link to the map that came up when I did that Google search. Going to look for one closest to our apartment.
-- Adrianne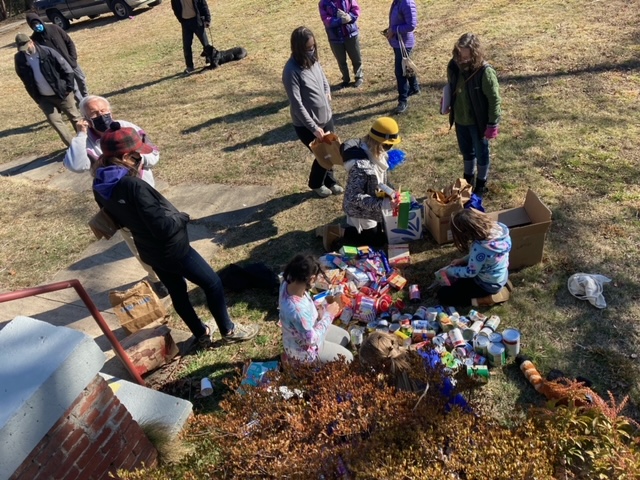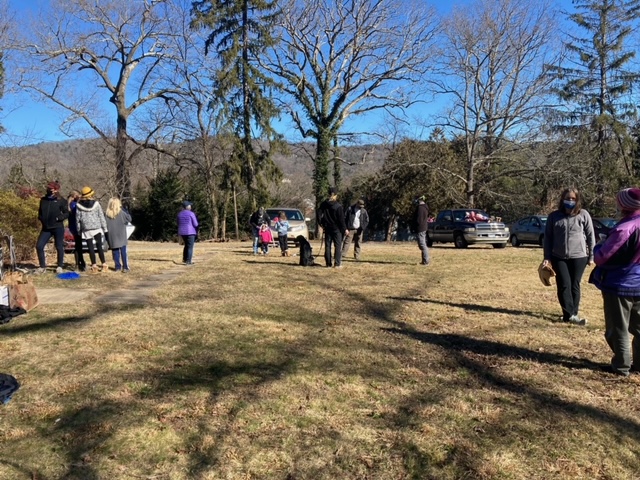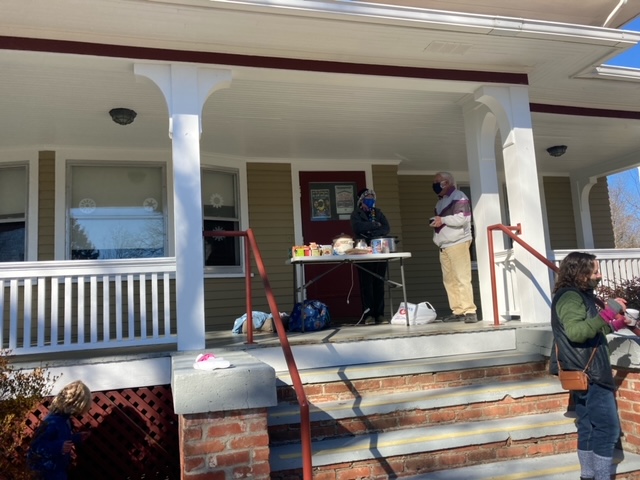 =======
Second Month 9, 2021
Pat met with Chief Sneed, the Principal Chief of the Eastern Band of Cherokee Indians to discuss the proposed Land Acknowledgement from the Asheville Friends Meeting. During that meeting, Chief Sneed gave Pat the medallion shown below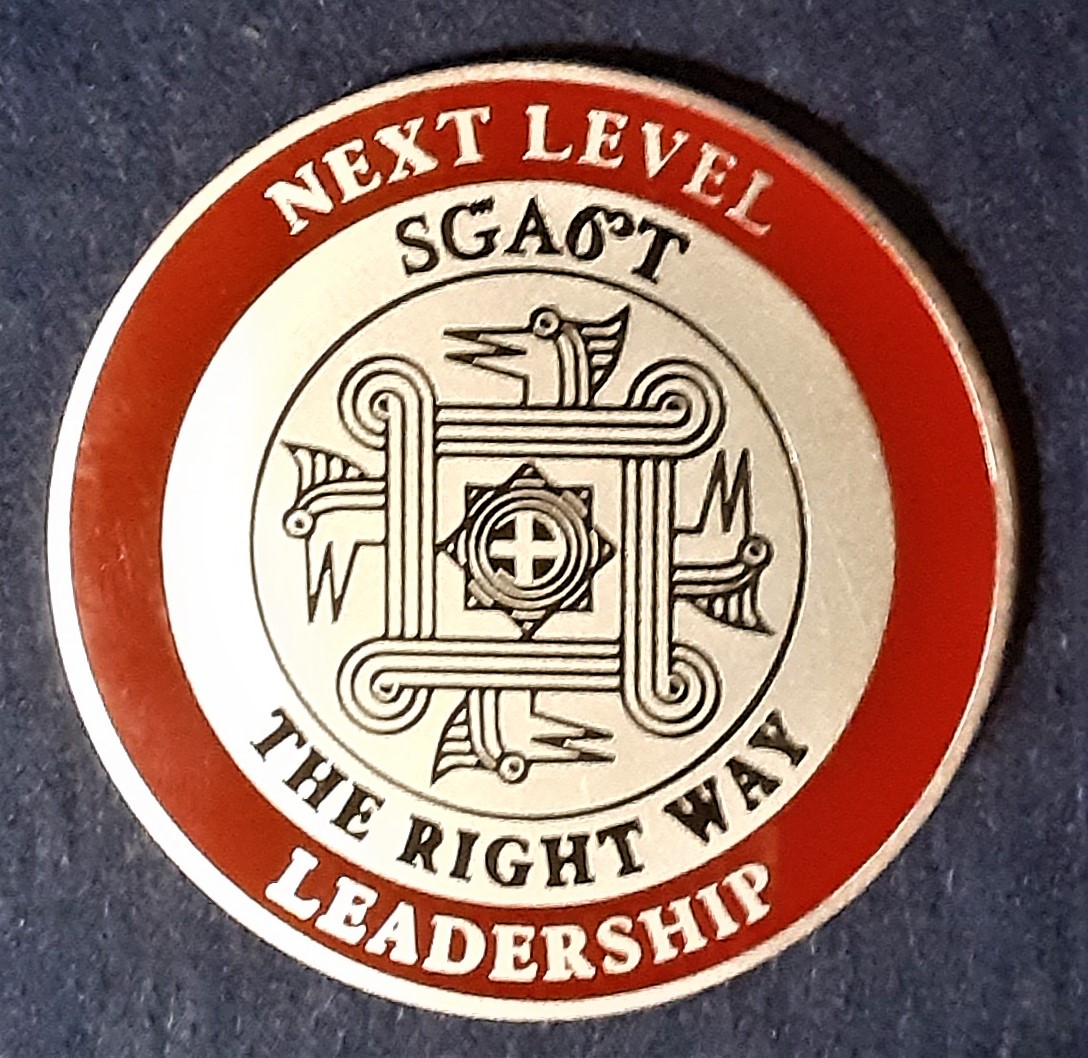 =======