Hi All,
Hope your summer is going well. How I miss all of you and good old Asheville!!!! I've now finished half of my contract here in Bethel so that leaves five more weeks in the land of the midnight sun. We lose about 4-5 min. of daylight each day so it's already noticably darker after midnight. Temps are still in the 50s to 60s during the day but often gets into the low 40s at night.
I'm quite busy and usually see 18 – 22 patients each day. Some are very complex and most have several more complaints than what they scheduled for. Mornings are a little slower but the afternoons rarely have any breaks and run from 1 – 7pm. It's nice in some ways to be seeing patients again but I've had some difficulty getting used to the pace again after being retired for a couple of years. And I can't quite remember all the doses for meds so I have to look them up which slows me down and makes some patients wait longer than I would like. Well enough of my complaints. Overall, things are going pretty well. I've finished the book "Three Cups of Tea" and was so inspired by Dr. Greg. Sure wish I could be part of the discussion you're having as I know it is real good. I plan to read more of the Quaker books I picked up at SAYMA so I can continue my quest to understand Quakerism better.
I've attached some pictures. One is of cotton grass which grows wild here all over the place. I had never seen cotton growing at the top of grass blades prior to coming to Bethel and I still marvel at it. Thought you would be interested in seeing this grass as well. Two other pictures are from the Fourth of July parade. It was rather charming and the kids were so excited to get the candy thrown from the various groups. Later some friends invited me to a picnic with lots of good food. We don't have fireworks on the fourth because it's too light to see them. The fireworks will come after the start of the Kuskokwim 300 Dog Sled Race in Jan. They show up really well then.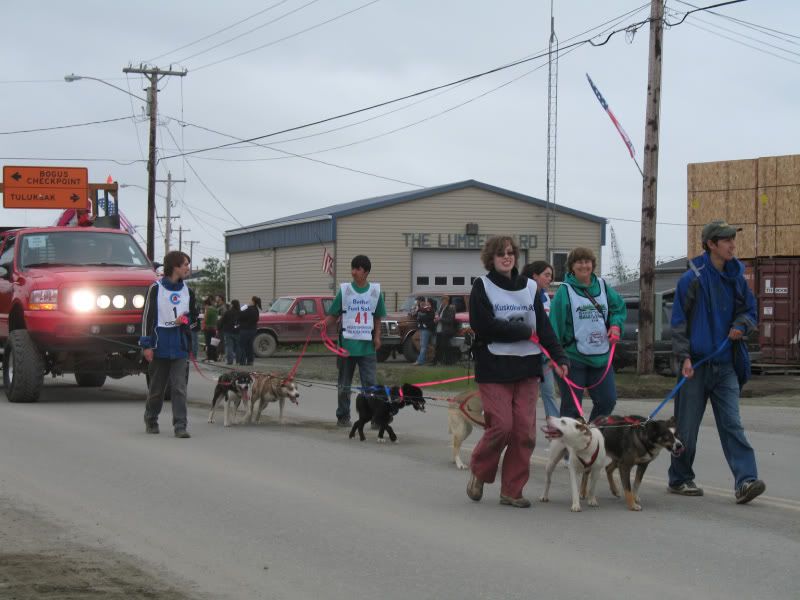 I have to move from the apartment I've been in since arriving here because it needs some repairs. As of Sunday, my home number will be (907) 543-3712. All the rest of my contact info remains the same. Looking forward to seeing you again in Sept. In the meantime, please know that I think of you often and hope you're having a great summer. Take care.
Peace, Pat J.